News & trade fairs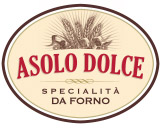 Products of excellent Italian traditions
Puff pastries
Break them delicately with your teeth, let them melt in your mouth, savour the aromas of sugar and jam... Just like yesteryear, at the bakers' and our grandmothers' kitchens. This is how Asolodolce products are made, simple, tasty everyday delicacies to begin or lighten up your day with a truly tasty smile, the pleasure of proverbial genuineness and lightness.
Coated puff pastries
Our special mouth-watering small puff pastry dessert specialities. The most famous and typical forms coated with crunchy layers of ultra-sweet, top quality chocolate. Authentic and tasty small brand name pastries.
Filled Pastries
Traditional and famous like Strudelini or new and exclusive creations like delicious Tindy or tasty Jumbo. Asolodolce specialities combining home-style shortcrust pastry with soft, sweet aromas, fine creams and fruit jams.
The traditional art of puff pastry
---
"Asolodolce makes puff pastry delicacies and gourmet sweet specialities using modern, avant-garde methods and processes whilst prioritising the search for quality and genuine artisan methods."
---
This is not hyperbole or a marketing ploy but our everyday practice, a simple, delicious truth.
Asolodolce is a family-run business now on its second generation. Our production volumes are now high but our values and approaches are still those the company started with, those which the founder, still present in the company, has taught and passed down.
And Asolo Dolce's is a story worth hearing.

Head Office
---
Via Enrico Fermi, 51 - 31011 ASOLO (Treviso)
Contact us
---